Filter by Subcategory
Youth and Family
Family Art Academy-Virtual

Next available session starts May 2, 2021 at 10:30 am
Whatever shape your family takes, join us and other families to learn about, create, and celebrate art! Friends and family members from all over the United States and even the world can spend time together in our Virtual Family Art Academy. Join our PAFA art educators live on zoom, and make a fun creative projects with materials found mostly at home.
FREE with registration.
Talleres de Invierno-Primavera 2021 en Linea Cualquiera que sea la forma y medida de su familia, acompañenos a crear y celebrar el arte! Sus amigos y familiares en otros paises también pueden participar y reunirse virtualmente con ustedes en La Academia de Arte de la Familia de PAFA. Los invitamos a conocer a nuestros artistas educadores en Zoom, y a divertirse aprendiendo con interesantes proyectos hechos con materiales reciclados en casa.
La registración es gratuita.
Art Explorer Virtual Academy. May 2021
with Lindsey Murphy

Next available session starts May 4, 2021 at 4 pm

, runs for 5 weeks
2 additional sessions through May 6, 2021
This five-week afterschool program provides quality time and relief after an intense school day, where children often do not get a chance to chat and play or engage in hand-made activities. Kids will explore PAFA's extensive art collection and engage in exciting art-making projects. Each week will be dedicated to different artistic endeavors.
If, one day, you cannot make it to your session, you may join another session in the same age group, with teacher permission.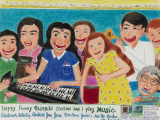 Family Membership
ATTENTION: Family Membership should be purchased only for the adult member of the family and added to the shopping cart only once. Do not add it to your children's name at the check out. 
You can purchase Family Membership at the  time of your registration for a family program. Just add it to your cart, and indicate that you are "purchasing membership" in the registration form of the selected program. Please note that your registration may be placed on hold till your membership status and claimed 10% discount are confirmed. 
The Family Membership benifits 2 adults and their dependent children under 18 for one year from the date of purchase, and includes:
- Discounted and priority registration for Summer Art Camps for Kids.
- Discounted registration for Saturday Classes for Middle School Students, Art Explorer Afterschool program and other Family Programs. 
- Unlimited free admission to the permanent collection and all special exhibitions
- 10% discount at Tableau Cafè and the Museum Store
- Free or discounted admission to all ticketed public programs and lectures
- Members-only tours, events and exhibition previews
- Family Programs email newsletter