Filter by Category
Virtual Saturday Classes for MS.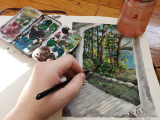 The Art of Sketchbooks, Virtual Course. Ages 10-13
with Melissa Hendrixon

Next available session starts Nov 14, 2020 at 10 am

, runs for 6 weeks
Sketchbooks have always been a vital tool for artists to record their ideas and practice technical skills. Very often sketchbooks turned into works of art in their own right. This 6 week course will introduce students to a variety of artistic sketchbooks styles and practices, helping them build and enhance their drawing skills, engage with the art of portraiture and observational drawing, experiment with different media, make fan art, cartooning and more! It is a great way to start a journey into this great artistic practice, joining Leonardo Da Vinci, Vincent Van Gogh, Frida Kahlo, and many other artists who created unique sketchbooks.
Required:
Sketchbook: Can be anything the students feel comfortable working with and that they will want to continue working in after the course is over. Can also be a sketchbook they already own. No smaller then 8x10 recommended. Mixed Media weight paper highly encouraged.
Pencil/ Eraser Inking Pen: think sharpie, brush pen, anything that can be used to outline artwork
Optional: coloring materials, colored pencils, watercolors, markers,  etc.(encouraged to choose at least one)
This is a basic list, but students are welcome to bring any material, mediums, that that inspire them. The important thing is that they use something they like and have about three different options of mediums to use in their sketchbooks.
Link to recommended materials: https://a.co/1iFGkD4
Image: (c) Melissa Hendrixson